20 Seconds From Overtime
Byfuglien Scores Heroic Goal
The Philadelphia Flyers headed into Wednesday night with one goal in mind; winning game seven against their state rivals the Pittsburgh Penguins. Wells Fargo was sold out nearly a week before the game which provided 17,055 fans with a night of entertainment they won't soon forget. The Penguins opened the scoring at the 12:15 mark; Boychuk's 7th goal of the series. The Flyers fought back hard notching the game at one just six minutes later on Dadonov's 2nd of the series. Philly led in shots on goal by a count of 16 to 9.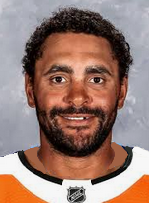 The second period was a tightly fought 20 minutes which saw a lone goal from the Flyers Jared Knight; his second of the series as well. The third frame saw the Pens fight for the playoff hopes as they out-shot Philly 10-2. The Flyers looked like they could hold on until the 16:58 mark when Boychuck scored his series leading 8th to tie the game at two. The two clubs looked destined for overtime. Dustin Byfuglien had other plans. With just 20 seconds remaining in regulation, Eric Staal was sprung on a two on one by Brandon Gormley; Staal carried the puck into the slot before feeding it over to Dustin Byfuglien who potted his 3rd of the series and eventual game and series clinching goal. The arena erupted in celebration. With the net pulled, the Penguins could not muster another scoring chance in the final 20 seconds. Philly is on to round two and will face the Stanley Cup rich Montreal Canadiens.

Flyers Top Performers: Round One
Nicklas Backstrom: 4 goals, 5 assists, +4
Evgeni Dadonov: 2 goals, 6 assists, +5
Dustin Byfuglien: 3 goals, 1 assist, +2, 27 hits

Goalie Richard Bachman played in all seven contests posting a 2.80 GAA and .906 S%

Matthieu Perreault is expected to miss game one vs Montreal but should be back for game two. This will create a touch decision for Philly as Jared Knight has fared well in Perreault's spot acquiring five points in the series.
Posted: Wednesday, December 4, 2019
By: Julian Borrelli
Comments: (0) View/Leave Comment
Previous Team News