Flyers Clinch, Shutout Panthers
Dadonov/Bourret Combine for Seven Points
For the 10,212 in attendance on Halloween night, the Flyers put the fright into the Florida Panthers. It was a decisive performance from puck drop as Evgeni Dadonov (20) started the nights onslaught just 1:16 in. Larkin (19), Gormley (9) and Dadonov (21) added three more for the tallies Flyers who took a 4-0 lead into first intermission. Alex Bourret potted his 25th of the season as the lone marker in the second period, followed by his 26th of the season late in the third. 6-0 was the final score which rewarded Richard Bachman (21 saves) with his 3rd shutout of the season.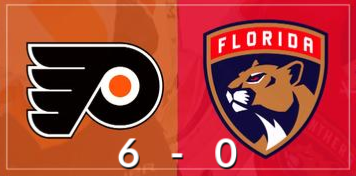 Three Stars:
1) Evgeni Dadonov (2 G / 2A / +3 / 5 shots)
2) Alex Bourret (2 G / 1 A / +3 / 5 shots / 3 hits)
3) Richard Bachman (21 saves / shutout #3 / win #37)

The Flyers notched their 40th win of the season and clinched a playoff spot. They sit third in the east at 96 points, 13 ahead of fourth place Pittsburgh. Just the Rangers (99) and Montreal (101) have earned more points in the eastern conference. The Flyers have already surpassed their prior season point total of 86. It has been 12 games since the Flyers lost a game in regulation.

Next up; Philly heads to Winnipeg on Monday to face the Jets. Winnipeg is seeing their playoff hopes dwindle but remain a game in hand of their surrounding competition. They sit four points back of the Dallas Stars.
Posted: Thursday, October 31, 2019
By: Julian Borrelli
Comments: (0) View/Leave Comment
Previous Team News